70th Locarno Film Festival
From a tribute to Straub/Huillet to Valerie Massadian's portrait of teenage motherhood, the turn to real situations and people for fiction films
The 70th Locarno Film Festival provided a rich sense of cinematic continuity. Alongside new films – Wang Bing took the Golden Leopard for his film Mrs. Fang (2017) and werewolf story Good Manners (2017) directed by Marco Dutra and Juliana Rojas was awarded the special jury prize over the weekend – it also showcased a retrospective of forgotten Hollywood master Jacques Tourneur and a number of works by vanguard directors Jean-Marie Straub and Danièle Huillet, both drawing crowds in the outdoor cinema on Piazza Grande, even on stormy nights.
If one theme emerged this year, it's the way directors have increasingly turned to real situations and people for fiction films. This pattern was beautifully highlighted in a short homage that Spanish filmmaker Albert Serra (The Story of My Death, 2013; The Death of Louis XIV, 2016) paid to Straub/Huillet, in one of the festival's parallel events. While discussing Straub/Huillet's From the Clouds to the Resistance (1979), a film whose first part features Italian villagers and actors delivering fragments of Cesare Pavese's stories that deal with men questioning gods, and the tension between authority and ordinary people's claims to autonomy, Serra stressed how Straub/Huillet's confounding of documentary and fictive registers – the fine line between peasants being transformed into actors, particularly in the Straub-dictated deliberate, staccato deliverance of lines, combined with them also being themselves, literally dropping 'the mask' the minute they stop speaking – strengthens the film's rhetorical gravitas.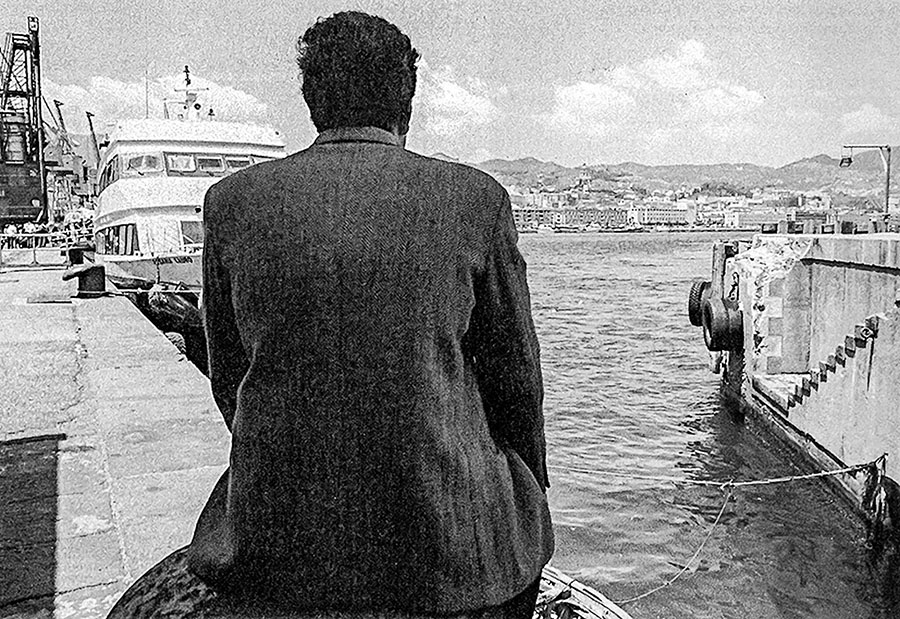 Indeed, the Straub/Huillet masterpiece also shown in Locarno, the black-and-white Sicilia! (1999), based on Elio Vittorini's novel, Conversations in Sicily (1941) seems as much an homage to the specific places, customs and people as, in parts, to Italian neorealism – particularly in its emphasis on exteriors and on the working class. The local intonations and dialect produce an uncanny musicality, against Straub's spare, distancing style, à la Bertolt Brecht. The poor of Sicilia, playing alongside professional actors, are as epic and stylized in their recitations as a Greek drama, and yet piercingly real.
In the Signs of Life slate that promotes filmmakers with an experimental bend, the two prize-winning feature films, by Dominican Nelson Carlo De Los Santos Arias (first prize) and Brazilian Adirley Queirós (honorary mention), draw upon real life, echoing ethnography. De Los Santos Arias's notable debut, Santa Teresa Y Otras Historias (2015), mixed documentary with the crime genre. He again uses elements of suspense in his new fiction film, Cocote (2017), in which a gardener for a wealthy family returns to the countryside to bury his father who was brutally murdered for not paying his debts. Guided by his Evangelical faith, Alberto (Vicente Santos) is shocked to learn of his father's rush burial, and that a voodoo ritual with animal sacrifice is being prepared for him instead. He resists his vociferous sister, Karina (Yudith Rodríguez), and other relatives who call out for revenge. Yet the power of lore, mixed with social pressure, ultimately proves too great.
If the story, which oscillates between pagan and Christian beliefs, is at times schematic, De Los Santos Arias's rapturous, intimate camera is particularly effective in capturing real-life rituals. By mixing the mourning scenes in which non-actors give in to grief, and their rhythmic, ecstatic, pulsing dances, with improvised dialogues that bristle with vernacular wit, the filmmaker brings to life a universe that is at once strange yet pulses with familiar passions. The ethnographic tension between violence and rupture in older religions blends with the fictive family drama in which blood ties rule. De Los Santos also offers glimpses of television sermons, and clips from the news in which men speak of venerating roosters and mourn goats. This rich world of superstition reminds us that since faith draws upon the imaginary, appealing to our unconscious fears and hopes, it is never far from fantasy.
In Queirós's Once There Was Brasilia (2017), the filmmaker's native Ceilândia – a real-life outer-borough where the workers who originally built Brasília have been pushed out – serves as a backdrop for an Afro-futurist dystopia. Queirós resurrects the scenario from his previous film, White Out, Black In (2015), of an intergalactic visitor to the Earth. WA4 (Wellington Abreu) has been entrusted with a mission to go back in time and assassinate the nation's progressive president. Queirós's reality is that of Brazil's poor black in a vigilant, oppressive state, which the filmmaker highlights with the presence of wires and grates, and in one evocative scene, by portraying downcast, identically uniformed prisoners shuttled on the metro by police.
Quierós works organically, abandoning his earlier more controlled, scripted method, and instead focusing on his mostly non-professional cast in their immediate environment. Perhaps this is why rather than the scant plot, we are immersed in the expressiveness of gestures and language, in the oddity and humour of an intergalactic warrior travelling to earth in a dilapidated wreck of a spaceship, grilling a traditional Brazilian barbecue and smoking incessantly on his journey – an estrangement that while stylistically inspired by Ridley Scott's Blade Runner (1982) also satirizes sci-fi tropes.
In the Cineasti del presente, which showcases first and second films, the winner of the Special Jury Prize, Milla, by French filmmaker Valerie Massadian – who previously won in Locarno for her first feature, Nana (2011) – tells the story of a young woman who lives on society's fringes. Without family or friends, Milla (Severine Jonckeere) squats in an abandoned house with her boyfriend, Leo (Luc Chessel). Their poignant romance ends with a loss when Leo suffers an accident. What seemed like a tale of two alienated young people growing under each other's skins becomes a story of solitary endurance. Milla, who previously lived precariously, satisfied with odd change or with stealing food, now finds work in a hotel and creates a home for her small son – the first stable place she has ever known.
Massadian cast in the title role a real-life teenage mum living in a shelter for single young mothers. Milla/Severine's mix of tenderness and street-wise toughness makes for one of the most memorable portraits at Locarno this year: vulnerable yet incredibly self-contained. This is no doubt thanks to Massadian's insistence on connecting to the real world, however thorny or even limiting it might be, creating fictive situations yet drawing on emotions that cut awfully close to home. A poignant discomfort with her body or with physical proximity shows as Milla attracts and repels her boyfriend, or when pregnant she must slowly grow into her role as a mother and transcend her gawky, teenage self. Massadian's close observation of Milla's youthful abandon and her later negotiation of playfulness with increased authority is particularly striking.
The cinematography is equally gentle and unobtrusive, with Massadian herself briefly in front of the camera in a supporting role, as a sympathizing female friend, whose single-mother family portrait echoes that of Milla. Jonckeerie's small son plays himself, and Massadian's son, Mel Massadian, is behind the camera, along with Rob Fresson. Like De Los Santos Arias and Queirós, Massadian opts for the discoveries in the moment and focuses on her protagonist's uniqueness rather than on stricter demands of plot or on a narrative arch. This is perhaps why we are struck by the keen sense that Milla will never change – like the film, she radiates an inner strength. 
Main image: Valerie Massadian, Milla, 2017, film still. Courtesy: Locarno Film Festival