The Gains and Losses of Online Film Festivals
Matt Lloyd Turner reviews IFFR's Tiger Shorts Competition – programming focused on collectivity – to see what changes when viewed on a computer screen
In January and February 2020, Berlinale, Sundance Film Festival and Rotterdam International Film Festival (IFFR) all managed to squeeze in in-person screenings before COVID-19 made gatherings at such a scale impossible. The following year, these same three festivals were subject to the restrictive impact of the pandemic in full force, having to scale back their programmes and present films to their audiences online. In 2022, Berlinale will take place in cinemas once more, but, citing rising Omicron cases, both IFFR and Sundance made the decision to move their January events to online platforms for the second consecutive year.
Seeing work at film festivals in a form in which attendees are so geographically dispersed presents some challenges. When in-person events first began to move online, much was made of the opportunities afforded by the transformation. In March 2020, when events scheduled for CPH:DOX (Copenhagen's International Documentary Film Festival) were transplanted onto the web with only three days' notice, conversation focused on the fact that showing films online increased both access and affordability. However, filmmakers who had to premier their works in this way seemed generally far less enthusiastic about the move.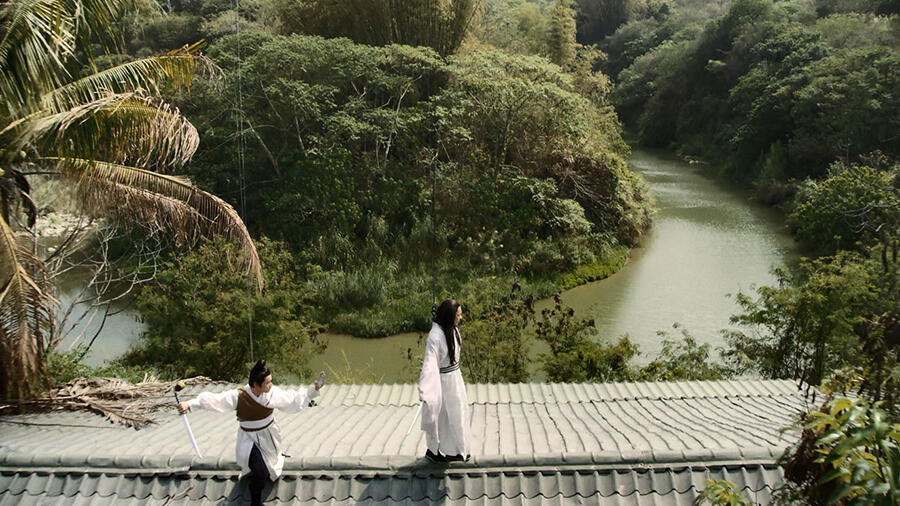 IFFR's 2022 Ammodo Tiger Short Film Competition offers an effective means of examining both what is lost and what is gained in the experience of engaging with artists' films as part of a virtual film festival. Something that was apparent in this year's competition selection was the suitability of one particular style of filmmaking to online presentation: the essay film, such as Maryam Tafakory's Nazarbazi (2022) and Hsu Che-yu's The Making of Crime Scenes (2022). Works that were more reliant on sound design or on visual spectacle – such as Juanita Onzaga's sensorial work of speculative fiction Tomorrow is a Water Palace (2022) or Korakrit Arunanondchai and Alex Gvojic's rhythmic, spiritual bodily odyssey Songs for Living (2022) – were diminished somewhat by the small screen, being deprived of the impact they would have in a cinema.
Sasha Litvintseva and Beny Wagner's Constant (2022), however, seemed to expand in the context of being presented online. Exploring the history of standardized measurement, the two artists use a number of different visual techniques, such as animation, photogrammetry (extracting 3D information from photographs) and 360-degree videography – all of which are themselves filmmaking technologies often used for the purpose of measurement –  to poke around the social and political ideas that their chosen subject matter brings to the fore. A dense and discursive essay film of the sort that is associated with Harun Farocki or Hito Steyerl, or, more recently, Theo Anthony, Constant is a work that benefits from being seen in a web browser. Having the option to pause and ponder the playful and sardonic narration was useful – replaying the film helped reveal the complexity of its construction.
Despite being conceived as a six-channel installation, Sara Cwynar's Glass Life (2021) also worked surprisingly well in a single-screen format online. Even denser in aural and visual content than Constant, the film plays with ideas of incomprehensibility, layering lines of comic narration and quotation alongside stacks of swiftly moving, rapidly cut imagery with a pace and rhythm that is both beguiling and bewildering. All of Cwyner's recent videos explore similar themes of consumer culture, capitalism and identity, but here, the artist's ideas materialize in their sharpest, most musical and colourful form.
Watching artists' films online is not novel – for a long time there have been services that offer a means of viewing them legally at home. What is different about watching works as part of a festival is the ability to access them in volume over a short period. In normal times, IFFR programmes its short films and artists' moving-image works so they are all presented over a single weekend, meaning that artists and enthusiasts can gather for an intensive collective experience that encompasses screenings, discussions and performances. A viewer watching these works online finds themselves able to access much of the same cinematic material of the festival in its conventional form but with none of the concomitant communal experience. The work itself may be what matters, but without the presence of other people, an unquantifiable something is lost. 
One work presented as part of the Tiger Competition, Rainer Kohlberger's Answering the Sun (2022), managed to retain some flavour of the distinctive aesthetic experience usually found at this particular festival, even if something was still lost without the social element. An hour-long audiovisual assault consisting of shifting sequences of radiant flashing patterns and light fields, the film does not present new ground for the artist – it's more of an extension of his established practice. Yet, with a cheap home projector at their disposal and the spare time to ensure an hour's focused isolation, any attendee of IFFR could have a singular viewing experience, absorbing colourful sonic and aural prompts that, by way of their design, would be different for each viewer. It was a shame then to not be able to discuss it with anyone after. IFFR's organizers evidently value the collective experience, but it just so happens such a context is also one in which a highly infectious virus thrives. Kohlberger's film is categorically not an artwork intended for virtual transmission, but in challenging times, you have to make the best of what you have.
Main image: Sara Cwynar, Glass Life, 2021, film still. Courtesy: IFFR