'Sacklers Lie, People Die': Nan Goldin Leads Anti-Opioids Protest at the Met
The photographer's activist group PAIN staged a 'die-in' to protest the Sackler family's controversial pharmaceutical links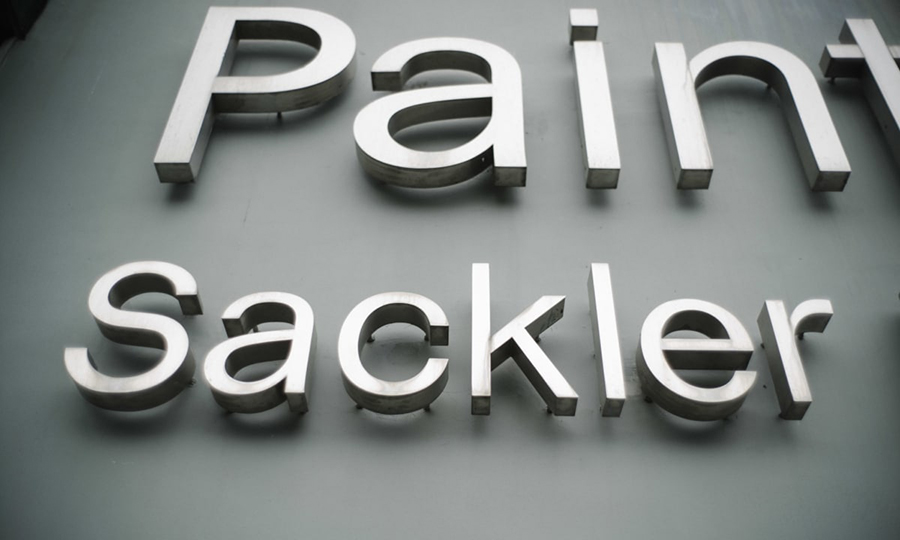 On Saturday 10 March 2018, the photographer Nan Goldin, and her activist group Prescription Addiction Intervention Now (P.A.I.N) gathered at the Sackler Wing of New York's Metropolitan Museum of Art. Holding banners reading 'Shame on Sackler', and throwing pill bottles into the moat of the Egyptian Temple of Dendur, the protesters fell to the ground, shouting 'Sacklers lie, people die' – referring to the prominent family of philanthropists, and owners of the pharmaceutical company Purdue which manufactures the controversial opioid Oxycontin. OxyContin's key ingredient is oxycodone – a painkiller which has been responsible for many overdose deaths in the US.
The protest at the Met is the first significant public action staged by Goldin, since she revealed details earlier this year about her own opioid addiction after being prescribed OxyContin after surgery, her later rehabilitation, and announced her campaign against Purdue Pharmaceuticals and the associated Sackler family members who are the company's major owners. Goldin and her campaining organization P.A.I.N are also drawing attention to arts institutions which have benefited from the Sacklers's philanthropy over the years. 
At the protest, Goldin addressed the crowd: 'In the name of the dead, Sackler family, Purdue Pharma, hear our demands. Use your profits, save our lives.' In pamphlets distributed at the gallery, Goldin and P.A.I.N called for the Sacklers to fund programmes which counter the US's opioid crisis, 'instead of continuing to wash their money in great institutions (like the Metropolitan Museum of Art)'.
Goldin and P.A.I.N demand Purdue publicly acknowledge and advertise the risks of their products. Speaking to the New York Times earlier this year, Goldin compared the US's opioid crisis, with 200,000 related deaths from 1999 to 2016, to HIV: 'In the '80s I lost a whole community and to my mind there's a generation missing … so are we going to watch now while another generation is being wiped out?'
 

A post shared by P.A.I.N. (@sacklerpain) on

Mar 10, 2018 at 5:29pm PST
The Met's Sackler Wing dates back to 1978 – it was funded by three Sackler brothers: Arthur, Mortimer and Raymond. Arthur Sackler's daughter, Elizabeth A. Sackler has been public about her support for Goldin's campaign. Elizabeth A. Sackler has said that when Oxycontin was introduced in the 1990s, Raymond and Mortimer were the main Purdue owners, and no philanthropy from Arthur's side of the family had come from Oxycontin profits. 'The opioid epidemic is a national crisis and Purdue Pharma's role in it is morally abhorrent to me,' Elizabeth A. Sackler said in a statement earlier this year: 'I admire Nan Goldin's commitment to take action and her courage to tell her story.'
Purdue Pharmaceuticals disputes the claim that it improperly marketed the drug, and claims that it has already taken measures to limit drug abuse and support programmes for treatment. Meanwhile, Goldin promised protesters at the museum: 'We're just getting started … we'll be back.'