Featured in
Renée Green Drills into the Calculus of Culture
A joint retrospective at KW Institute for Contemporary Art and daadgalerie, Berlin, displays the US-based artist's critical passion for the artefacts she uncovers
They enter just behind me. Bellbottoms, patterned tops, long hair: they could be straight from Soul Train (1971–2006). Seconds after, I read on a monitor: 'Everywhere she goes, she encounters echoes of the 1970s […] Are the 1990s in vogue now? This is the decade we are in and we are contemporary.'
Renée Green's installations have a hall-of-mirrors way of jamming your sense of place and time. In 'Inevitable Distances', the artist's exquisite joint retrospective at KW Institute for Contemporary Art and daadgalerie, each piece is a mise en abyme, rippling between things you thought unrelated: land art, 1990s fashion, student protests. A structuralist critic would likely praise Green's 'deconstruction of medial representations through situated histories'. But this would mean sapping the life from Green's practice. You warm to her installations after they lead you through unexpected turns: if we are in a room examining the 1970 Kent State massacre, then why is the narrator speaking about Robert Smithson, and is the interviewee related to Green, and did Green stage the couple who just walked in behind me, or what?
Partially Buried (1996) – towards the start of KW's vast retrospective of Green's work, expertly curated by Mason Leaver-Yap – resembles a kind of groovy orange lounge, with throw pillows and curlicue wall lettering. Photographs, text and maps hang amid video interviews in which Green asks people to remember historical events. Simple enough.
Like an agronomist, however, Green takes a soil sample of a place and time to unearth an unlikely set of incidents and accidents. It's 1970. Smithson has just found a disused shed on the Kent State University campus and decided to cover it with dirt (Partially Buried Woodshed, 1970). The mother of a young Green and her ten-year-old brother happen to be at Kent State taking music workshops. Protests against the US intervention in Cambodia are erupting and, on 1 May, the National Guard shoots and kills four students on campus. In an instant, the meaning of Smithson's work, the peaceful protests and the music workshops are blown to pieces. Green interviews as many of these players as she can – not to get to the bottom of what happened (how can you?) but to sift through the varying ways in which big events are remembered, repressed, processed, remixed; and all this to a soundtrack including tunes from 1970 – the Mahavishnu Orchestra, Mick Jagger and orchestral jazz fusion.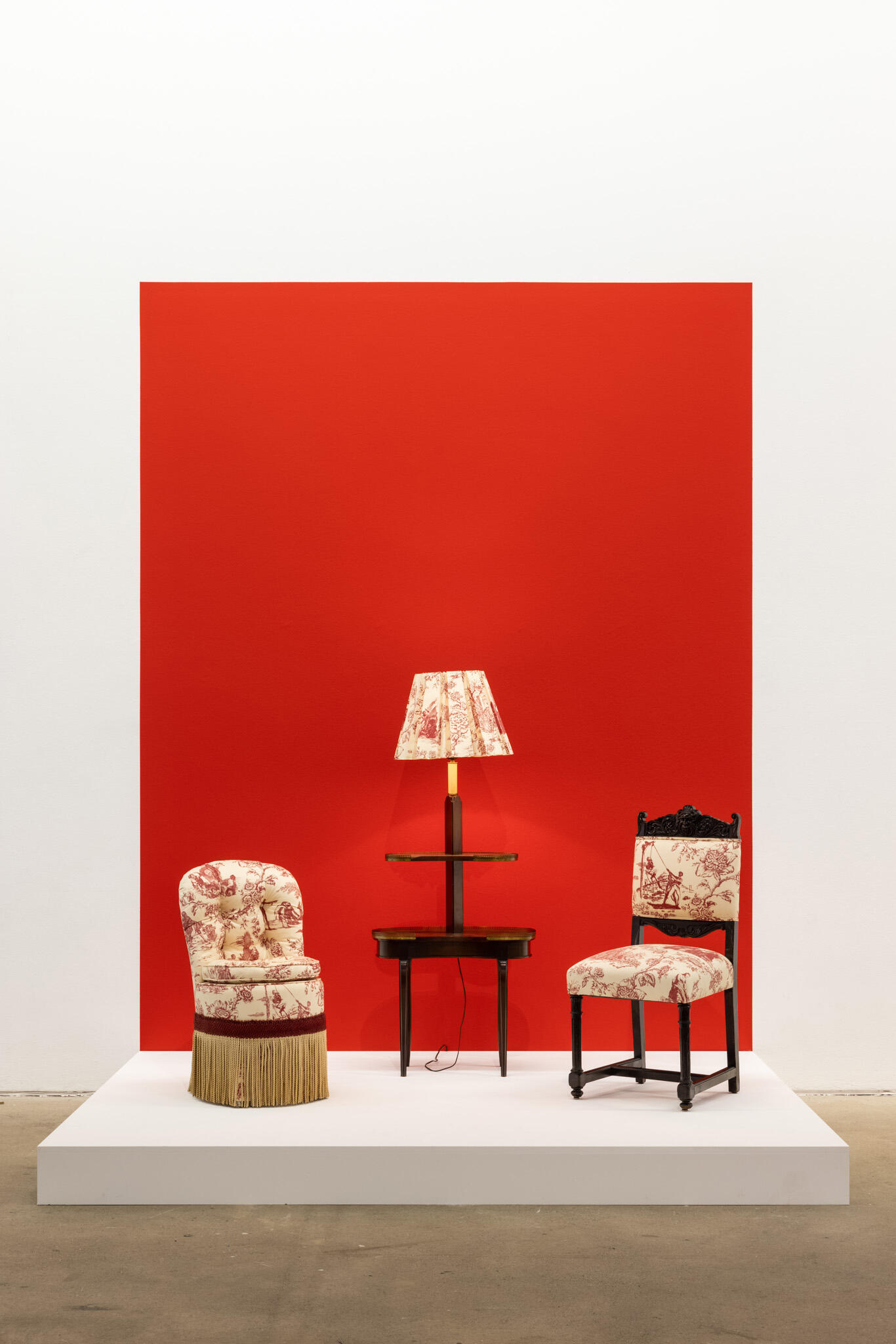 Green's work is a way of thinking abstractly by drilling into the calculus of culture. As academic George Lipsitz said when interviewed by Green for her work Import/Export Funk Office (1992), it's a thinking through 'music and through video, through dancing, through car customising, through hip-hop fade haircuts, through style leadership of wearing clothing'. To say that Green is 'interested' in media, in representation – tout court – is to downplay her critical passion for the artefacts she uncovers.
On first sight, Commemorative Toile (1992–93) is a sitting area with two chairs and a lampshade covered in 18th-century-style decorative upholstery. Look closer and you'll see the fabric depicts a white Frenchman being lynched on a tree by a Black enslaved person. During a residency in 1991, Green researched the floral prints that had passed through Clisson and Nantes, the capitals of France's slave trade with the Antilles. She designed a fabric referencing the Haitian slave revolt of 1791–1804 and borrowing imagery from tales (among others) of a Senegalese nun in Claire de Duras's novel Ourika (1823). Once in huge demand, these kinds of expensive fabrics were even used to pay for enslaved people; today, their histories persist in the designs on which we sit.
If such situated, material histories have become more commonplace today (consider the sculptures of Iman Issa, Lydia Ourahmane and Danh Võ, or the video work of Arthur Jafa), then Green's survey reveals where much of this came from. The exhibition follows the artist's early gouache series 'Metonymies' (1984), whose title reveals her melding of post-structural analysis with cultural studies; and, a key work for Green, the panel Edmond Laforest (1988), in which she unites painting and visual typologies with historical fact. In the panel, an empty frame hangs like a head from a noose above a typology of plants. Laforest, we learn, was a Haitian poet who 'in 1915 […] stood on a bridge, tied a Larousse dictionary to his neck and leapt to his death'. It's all here: the scientific layout, the history of trauma and – crucially – the oppressive (in this case deadly) weight of inherited histories of language.
Two crucial steps in Green's development were her 1991 move to Germany, and her return to Berlin on the DAAD Artists-in-Berlin programme in 1993. In Cologne, she met cultural critic Diedrich Diederichsen (former editor of the German music magazine Spex) and artists such as Jimmie Durham. Gallerist Pat Hearn introduced her to the dealer Christian Nagel, whose influential roster shuffled artists between New York and Cologne.
Of a show with several masterpieces, Import/Export Funk Office (which premiered at Nagel's Cologne gallery) is Green at her best. It's Green's first piece in time-based media and reveals her as an expert dialectician. The work is a fictional office constructed from metal shelving, containing books, magazines and media about Black culture in the US, but also hours of interview footage with Diederichsen, Lipsitz and US writer and musician Greg Tate. Here, Green holds a mirror up to European passions, fictions and fantasies about Afro-American culture, and vice versa. There is something awesome about hearing Green's voice, off camera, interviewing these cigarette-smoking – mostly white European – men about hip-hop. Neither docile nor hostile, like a good journalist, she lets her subjects do the showing.
Yet, the brilliance of Green's work is in never moralising. She offers up these documents as material to be neither rejected nor accepted as ethical imperatives. The fact that the work can provoke mixed responses is a tribute to its strength. As distasteful as European mansplaining might seem to viewers today, there is something almost tender and generous in Green's archive, too: friends, from vastly different geographies, bonding through shared interests – the thrill of music, films, magazines, travel. I almost get nostalgic watching it, before remembering – her Smithson project in mind – how critical Green is about the production of nostalgia, those sentimental sediments of history. It's complicated.
Each of Green's works is an exhibition in itself, such as her gorgeous early PS1 Museum installation Sites of Genealogy: Loophole of Retreat (1990). ED/HF (2017) is an extremely moving video homage to Harun Farocki, whose films, like Green's, combine detached observation with passionate attention to material, economics and people – and the work is also a kind of self-portrait of Green, too. Over at daadgalerie, the artist restaged her 1995 DAAD exhibition 'Miscellaneous', a panel of framed black and white photographs of museums, monuments and window shops that she took during her travels through Europe in the 1990s.
Green's work in critical material history produces complex effects through simple means – a photographic archive, a colour grid, a mock 'office' or furniture upholstery. With such allusion, there's always the risk of didacticism, but it's never preachy or even teachy. So much about Green's lifetime of work is instructive: it tells us to be real in our intellectual engagements, to travel to places where we are different, to be committed to the people and sites we meet, work with, visit or read about. Her work is an injunction to keep travelling, looking, trading. Or, simply put, in Green's shorthand: import/export.
Reneé Green, 'Inevitable Distances' is on view at KW – Institute for Contemporary Art and daadgalerie, Berlin, until 9 January 2022
Main image: Renée Green, Sites of Genealogy (Fear, Flight, Fate; Matrix), 1990, installation view, KW Institute for Contemporary Art, Berlin, 2021. Courtesy: Free Agent Media; Bortolami Gallery, New York; Galerie Nagel Draxler, Berlin/Cologne/Munich; photograph: Frank Sperling