Watch Now: Dorothy Cross
b. 1956, Cork, Ireland; lives and works in Connemara, Ireland
Featuring in Frieze London 2022 as part of Indra's Net, curated by Sandhini Poddar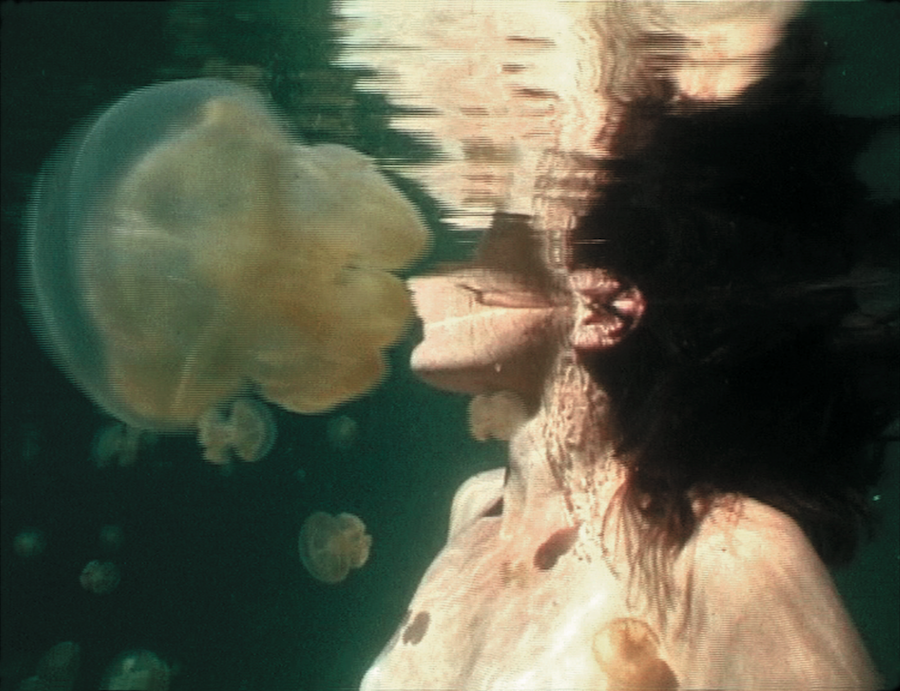 Based in Connemara, on Ireland's wild west coast, artist Dorothy Cross has been working across photography, sculpture and video since the early 1990s. A champion swimmer before she became an artist, Cross has examined the interconnections between living beings and the natural world since the inception of her practice.
By combining these experiences of nature with everyday objects and her own body, the artist creates hybridized forms that transcend linear time. Poetic and surreal scenes offer up profound ruminations on evolution and existence. At Frieze London, the index finger of a human hand skeleton in Fingertip Pearl, 2011, has been co-opted as a home by a black-lipped oyster — our sense of touch being altered through this symbiosis. We see Cross' submerged body in close contact with a swarm of jellyfish. A black and white photograph portrays her silhouette superimposed with that of a shark; the earliest known species being 420 millennia old.
About Indra's Net
Derived from ancient Buddhist and Hindu thought forms, Indra's Net refers to an ethics of being, where an individual atom holds within it the structure of reality. Imagine a vast bejewelled net: at every nexus there is
a reflective orb that mirrors and refracts every other orb in its entirety. Each part is held within the whole in a system of dependent origination. All sentient life is interconnected; shifts to one atom subtly alter the rest.
Curated by Sandhini Poddar, this group presentation brings together leading international artists whose practices are informed by this prescient metaphor. In various media, we learn of ancestry, history, language, consciousness and futurity as being bound to the earth, which serves as a perennial witness through the arc of time. 
In the video above, Cross shares her response to the question, 'What does interconnectedness mean to you?', an enquiry which is at the heart of the Indra's Net section.
Find Out More about Indra's Net