Featured in
Who is Anka Ptaszkowska?
'Anka Au Cas Par Cas', at CAPC Musée d'art Contemporain de Bordeaux, presents the life and career of the critic, curator, gallerist and teacher in all her multitudes
In 1973, Anka Ptaszkowska invited Vincent D'Arista to do a show at Galerie 1–36 in Paris. He asked for absolute freedom to do as he wished with the space; she accepted and didn't flinch when he requested that she rent a bulldozer. The artist eventually abandoned his plan to destroy the gallery and, instead, presented only a photo portrait of his host, which now hangs at the entrance of 'Anka Au Cas Par Cas'. The embodiment of a memorable anecdote, it makes the best introduction to the exhibition's protagonist: Ptaszkowska has been an art critic, a curator, a gallerist and a teacher, but, first and foremost, she has been a loyal friend and companion to many radical artists in Poland and France.
The first part of the show focuses on Ptaszkowka's influence in her home country of Poland, where she helped establish the avant-garde movement of the 1950s and co-founded the Foksal Gallery in Warsaw in 1966. Here we are met with works by Ptaszkowska's first husband, Edward Krasiński: Intervention (1970-2022), a line of blue tape that runs along the walls at (as with all works in this series) exactly 130cm above the ground, alongside a rocking horse (Cheval, 1969) built for their house in Zalesie, a village in northern Poland. This room invites us to wonder where we should draw a line between art and life, between freedom and submission to bureaucratic and commercial powers, or to our own habits.
Under the reign of the Stalinist dictatorship, drawing a line between 'us' and 'them' was a central concern in Poland in the 1960s. It took form through the creation of independent spaces, social networks and artistic situations resisting the rule of the police, often playing with its contradictions. Attention to their own bias was another important preoccupation for Ptaszkowska and her friends. In 1970, the Foksal group denounced their habits and invited artists to work outside the gallery space and challenge its limitations. Soon after, Ptaszkowska's break with this group led her to leave Poland for France.
While the Polish side of the exhibition is dominated by romanticism and idealism, on the French side, the mindset is more distanced, even dandy. In 1972, Ptaszkowska opened a gallery in Paris with the support of a group that included Daniel Buren and art critic Michel Claura. The gallery – now known as Galerie 1–36 – changed its name with every project, simply using numbers from one to 36. Dan Graham and André Cadere were among the exhibiting artists. In 1976, they sold a work by Carl Andre to help fund a far-Left Belgian newspaper, POUR Écrire la liberté. This section of the show introduces little-known and fascinating figures, for instance, François Guinochet, who dropped serious art for landscape paintings he sold to tourists in Montmartre.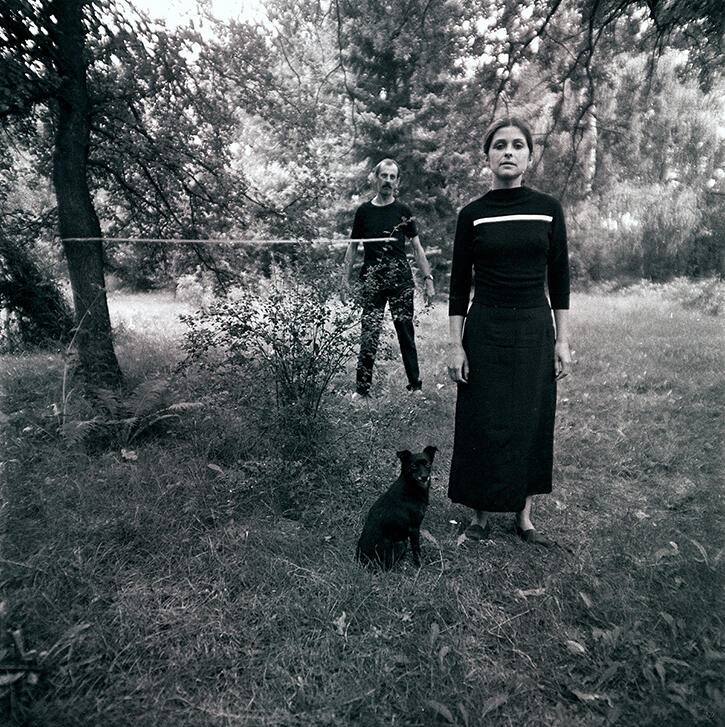 The exhibition's curators, Sara Martinetti and Maria Matuszkiewicz, tell Ptaszkowska's story without being exhaustive. They adapted a film script by Ptaszkowska, containing memories and reflections on her life and career, into an exhibition that skillfully mixes artworks, documents, a soundtrack and texts. I don't feel guided by a particular narrative or scenography; instead, I stroll and make up my own version of the show, moving freely from one chapter to the other. The curators translate Ptaszkowska's spirit and faith in freedom and independence (which, in the script, she coins with the old-fashioned term 'avant-garde') – reactivating a once-radical ethos for the present day.
'Anka Au Cas Par Cas' is on view at CAPC Musée d'art Contemporain de Bordeaux until 31 December 2022
Main image: Vincent d'Arista, Anka Ptaszkowska, directrice de la Galerie 10 (detail), 1973, black and white photograph, © Anka Ptaszkowska collection