A Black History of Art: Alayo Akinkugbe's Highlights from Frieze London and Frieze Masters 2022
The art curator and historian, celebrated for the @ablackhistoryofart Instagram account, highlights works by Faith Ringgold, Jem Perucchini, Joy Labinjo, Sahara Longe, Chase Hall and more at this year's fair
I had a fantastic time taking in the art for hours at Frieze Masters and Frieze London 2022. The breadth of artwork on display is unparalleled – never have I come across the work of so many artists whom I have long admired, as well as new discoveries, in one afternoon. 
Qualeasha Wood
Waiting to Exhale, 2022
cotton jacquard weave, glass beads
Courtesy of the Artist and Pippy Houldsworth Gallery
I love how Qualeasha Wood combines digitally manipulated images with tapestry, a medium that has had historical associations with the domestic, feminine or "low art" in art history. In this work, the artist centres her own image with a halo, backdropped by digital photographs of clouds, open windows from a desktop and her hand raised in a "blessing" sign, like a saint in a Catholic altarpiece. The blue background and golden halo alludes to imagery of the madonna, but Wood supplants the position reserved for the typically meek, mild and white figure with a selfie in which she gazes directly, unflinchingly back at the viewer. The text in the bottom of the painting, which reads 'hell hath no fury like a black woman scorned. i keep receipts', made me laugh out loud at Frieze London. The sentiment just completely resonates with me. (Pippy Houldsworth Gallery, Frieze London, Stand G19)
Faith Ringgold
Jazz Stories: Mama Can Sing, Papa Can Blow #8: Don't Wanna Love You, 2004
acrylic on canvas with pieced fabric border
Courtesy of the Artist and ACA Galleries 
This painting was a joy to stumble across at Frieze Masters – Faith Ringgold's work is always wonderful to witness in person. It depicts a band comprising four men and a woman as the lead singer. The colour blue which backdrops the scene is, of course, associated with blues music, and coupled with orange squiggles throughout the scene creates a sonic effect. For instance, the hand suspended over the cymbal can almost be heard tapping away, the slanted head of the bassist invokes the deep background sound of his instrument; and, with her confident stance and hands on hips, I can imagine the singer having a voice like the great African American jazz singers such as Billie Holiday and Eartha Kitt. (ACA Galleries, Frieze Masters, Stand B9)
Sahara Longe
Triptych, 2022
oil on linen
©Sahara Longe. Courtesy of Timothy Taylor, London / New York 
I really enjoyed this triptych of a party scene by Sahara Longe. In this painting, she primarily uses complementary colours of red and green hues, which, in my opinion, create a very satisfying composition. I spent a while taking in this painting at Frieze London. Her figures engage one another in conversation, and the central character is the most expressive, with his hands parted, assuming the role of the life of the part...I find that the longer I look at this painting, the more wit is revealed in the scene; how the right-most pair gaze awkwardly in opposite directions, with rigid body language, oblivious to each other's presence. (Timothy Taylor Gallery, Frieze London, Stand A12)
Magdalene Odundo
Untitled Vessel, Symmetrical Series, 2021
dated base ceramics
© Magdalene A.N. Odundo Courtesy the artist and Thomas Dane Gallery
Magdalene Odundo's vessels hold such presence and power. Backdropped by Anthea Hamilton's pumpkins and a tartan carpet that could be seen through its vitrine was this 18 x 12 inch vessel, wide at the bottom, with a slim neck and fluted rim, perfectly smooth and with an orange and Black burnished surface. Amongst its busy surroundings, the vessel commanded my attention in its simplicity. The unique display at Thomas Dane re-contextualised Odundo's work, freeing it from the white cube settings that I have seen her works displayed in in the past. It revealed the power of a clear-cut, simple silhouette and the quiet beauty of a vessel. (Thomas Dane Gallery, Frieze London, Stand E5)
 Tyler Mitchell
New Horizons III, 2022
Archival Pigment Print
© Copyright Tyler Mitchell, all rights reserved Tyler Mitchell. 
Tyler Mitchell's new commission was a fantastic contemporary addition to Frieze Masters. The photographs were shot in upstate New York, and in studios in New York City and London. Mitchell takes Black men interacting with landscapes and nature as his subjects for the commission, and draws on imagery from Impressionist and Rococo painting. In this image, nature is referred to artificially, with a painted backdrop of a forest scene interrupted by a role of green paper. Ironically, the horizon is not visible despite the work's title, New Horizons III, but is alluded to by the horizontal line created at the intersection of the two backdrops. (Frieze Masters, Stand P1 P2)
Joy Labinjo
A GUILTY CONSCIOUS NEED NO ACCUSER, 2022
Oil on canvas
Courtesy the Artist and Tiwani Contemporary 
Joy Labinjo's work on view at Tiwani Contemporary was fascinating in the way that it proposed alternative narratives and scenarios in history. Placed side-by-side with Umar Rashid's work, which similarly dealt with imperialist histories and the position of Black figures within them, the booth was unique amongst the presentations of contemporary art at Frieze London. I enjoyed this painting in particular for the violinist - a running theme amongst my selections this year has been the suggestion of sounds and music in painting. (Tiwani Contemporary, Frieze London, Stand H22)
Jem Perucchini
Senza titolo (Cloto), 2022
Acrylic and oil on linen
Courtesy the Artist and Corvi-Mora, London
This painting by Jem Perucchini was mesmerising to witness in person. I'm often drawn to works with darker palettes. Perucchini offsets the predominantly dark colours here with his masterful depiction of light. The details in the figure's clothing appear golden, as though reflecting light from the painting's surface, until closer inspection reveals that it is simply Perrucchini's manipulation of paint that produces the luminous effect. The figure gazes enigmatically to the right, looking beyond the frame, and has white thread wound delicately around their fingers. Perucchini manages to situate this figure, as with his wider body of work, outside of a specific time or location. Yet, the spindly fingers, blue orb and forlorn expression – which are attributes that are found in thousands of mediaeval altarpieces – make the figure appear familiar. (Corvi-Mora, Frieze London, Stand C7)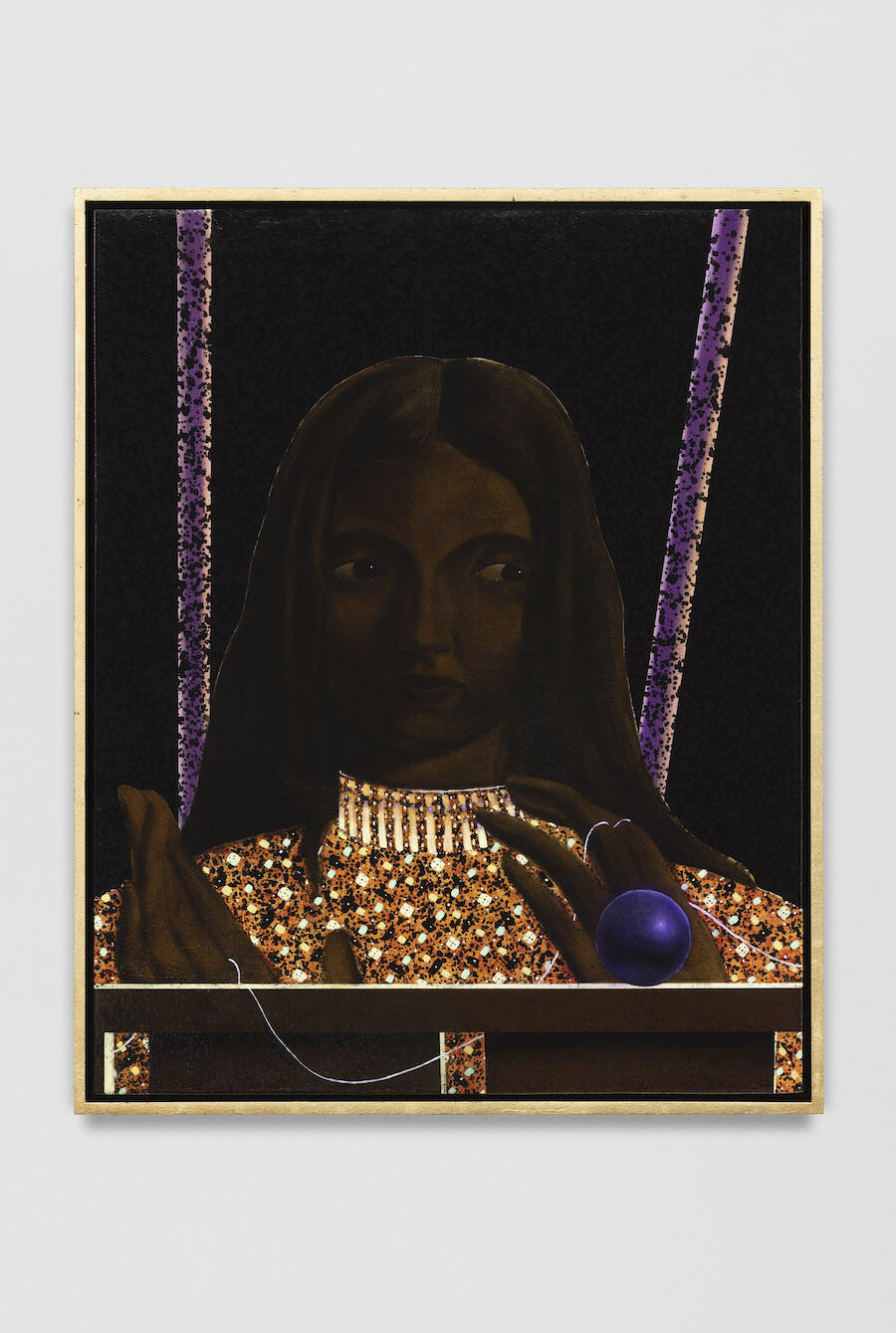 Chase Hall
God is You, 2022
acrylic, enamel pins, and coffee on cotton canvas, diptych
Courtesy of the Artist and David Kordansky Gallery 
I have wanted to see Chase Hall's work in person for the past year, so I'm really glad that this magnificent diptych is on display at Frieze London with David Kordansky Gallery. I felt like I could imagine the voices of each of the figures in the painting - despite their neutral expressions, each one remains full of character. The scene, which depicts a congregation standing inside of a church, sort of reminds me of my own experiences of school photos with everyone pristinely dressed and awkwardly staring back at the camera man! I also love the colours in this painting. The warmth of Hall's palette – hues of green, orange and brown –  feels nostalgic and homely to me. Also, because Hall uses coffee as paint for parts of his canvases, I have always wondered if his paintings smell of it... This one didn't for those who were wondering. (David Kordansky Gallery, Frieze London, E1)
TICKETS
Be the first to know when Frieze London & Frieze Masters 2023 tickets go on sale, sign up to our newsletter and follow @friezeofficial on Instagram, Twitter and Frieze Official on Facebook.
Main image: Chase Hall, God is You, 2022, acrylic, enamel pins, and coffee on cotton canvas, diptych, overall: 182.6 x 280.7 cm, Photo Credit: Dario Lasagni, courtesy of the Artist and David Kordansky Gallery