Featured in
The Expressionist Furniture of Hannah Fitz
At Kerlin Gallery, Dublin, the artist's domestic objects are playfully at odds with a world dominated by rigid functions
Since graduating from the National College of Art and Design in Dublin in 2012, Irish artist Hannah Fitz has played an active role in the local art scene. In particular, their involvement as a co-founder of Basic Space – an independent art organization launched in 2010 in a vacant warehouse in inner city Dublin to house studios and stage exhibitions – helped provide a vital local testing-ground for critical engagement. Although Fitz is now based in Berlin, having undertaken an MFA in sculpture at the Städelschule Frankfurt, it's hard not to interpret the title of their latest solo exhibition, 'Lookieloo' – a term coined by US real-estate agents to describe time-wasting clients, who view properties with no intention of buying them – as an oblique comment on the country's housing crisis, which has seen affordability and supply plummet in recent years. 
The installation at Kerlin Gallery presents a configuration of three sets of sculptures that read as an aesthetic continuation of the artist's most recent solo presentation, 'How I Finally Lost My Heart', at L21 Gallery in Palma in 2020. Here, each grouping contains three formal elements: small white plaster sculptures reminiscent of porcelain mantlepiece figurines, wooden boxes redolent of wardrobes but riddled with knots and holes, and 'electric fence' sculptures comprised of upright lamps interconnected to form barriers. The objects and their arrangement give a domestic appearance, like elements of household furniture, but they are devoid of practical function. For example, Pinocchio's Bitter End (Rest in Glory, Whole Again) (all works 2022) resembles a cupboard, but its doors and drawers are solid and sealed, preventing access. Fitz has replaced the knobs of these wardrobe-like objects with various protruding phallic shapes, reminiscent of the elongated nose of Carlo Collodi's magical marionette, while the parenthetical in the title subtly suggests the wooden knots could be glory holes. A graphite drawing of oversized gift bows appears on the exterior of the wooden furniture, and holes have been punctured in its surface. Looking inside these wooden sculptures leads your eye to the light piercing in from the other holes or into the gaze of another gallery-goer looking through from the opposite side. 
service top cowboi w strap takes the form of a small, faceless, white plaster and papier-mâché clay figurine entwined in a rope whip, while other works depict a lone rope swing on a tree (Monogamy) and a seated figure with a stick (Pondering the Suspension of Disbelief). Elsewhere, Journey's End (Electric Fence) is a steel fence with an ornate hole at its centre. Despite embodying the domesticity of a suburban garden fence, its function as a plausible barrier or demarcator of space is subverted.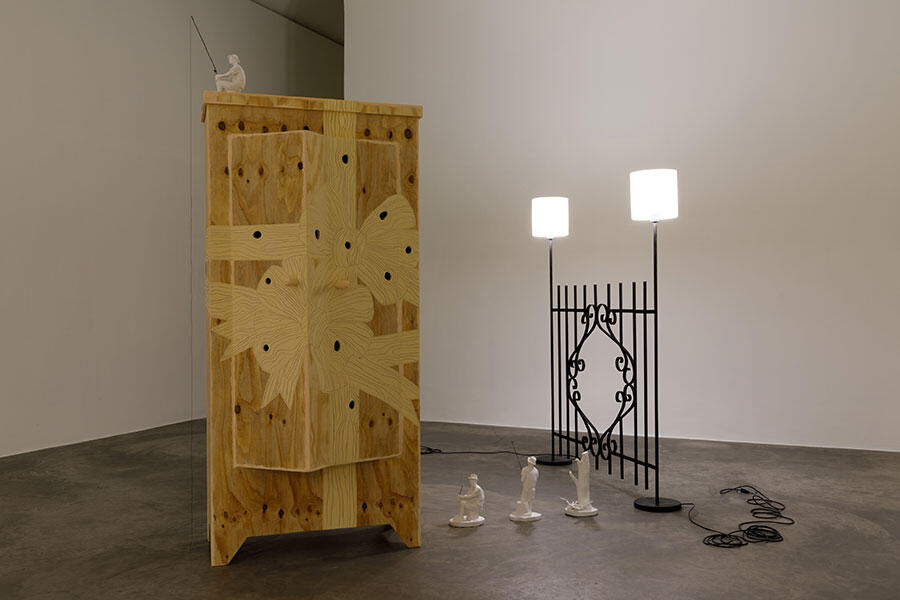 What formally unites these objects is that they fall out of their materiality and supposed or assumed function. The doors of Pinocchio's Bitter End (Rest in Glory, Whole Again) will never open; Journey's End (Electric Fence) will never function as a boundary. They are, nevertheless, holding their space while keeping the viewer at a distance. Just like a lookieloo, we are able to experience the unattainable by interacting with Fitz's works – objects playfully at odds with a world dominated by rigid binaries, functions and categories. 
Hannah Fitz's 'Lookieloo' is at Kerlin Gallery, Dublin, until 25 February 
Main image: Hannah Fitz, Pinocchio's Bitter End (Snuffed Out!), 2022, wood, paint, graphite, paper, clay, 98 × 108 × 73 cm. Courtesy: the artist and Kerlin Gallery, Dublin