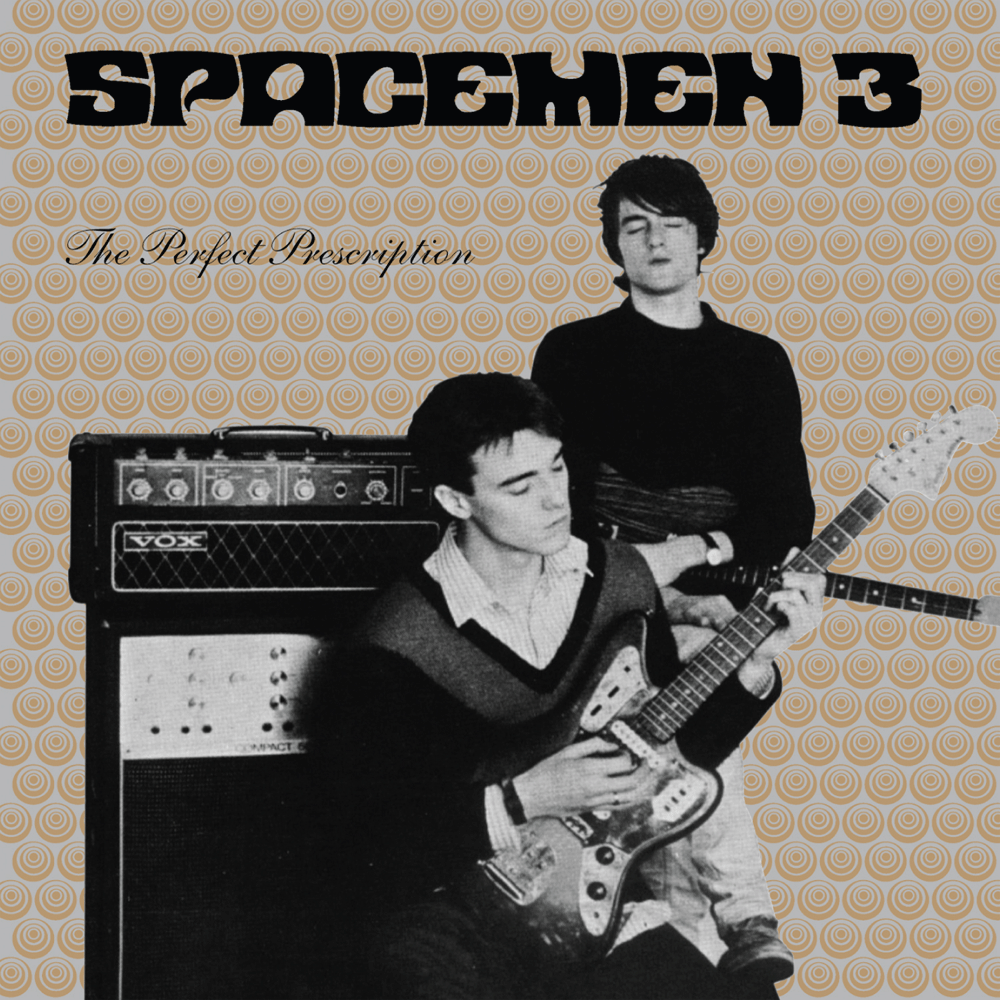 In the late 1980s, Alan McGee recounted how the musician Pat Fish once visited Spacemen 3 in Rugby during one of their recording sessions, only to find the band playing nothing but the chord 'G' for 45 minutes. He was unable to tell whether this was because the group had taken too many drugs or simply liked the chord 'G'.
Drugs and minimalism are usually the first things mentioned in any discussion of Spacemen 3 – unsurprising given that the band's motto was 'taking drugs to make music to take drugs to' and their songs seldom used more than two chords. Also often noted is the animosity between founding members Sonic Boom (Pete Kember) and Jason Pierce. The band split acrimoniously in 1991, Sonic Boom going on to pursue solo projects under various guises, while Pierce formed Spiritualized. However, Spacemen 3 were far more than a bickering stoner band; they were, as this reissue of their 1987 album The Perfect Prescription demonstrates, floating in a strange space of their own.
The Perfect Prescription was Spacemen 3's second album; eight songs, following the narrative arc of a drug trip, that wear their influences loud and proud. 'Take Me to the Other Side' kicks in with a fuzzy refrain straight out of The Stooges' book of riffs, whilst the Velvet Underground are mainlined in 'Walkin' With Jesus' and 'Ode to Street Hassle'. The Red Krayola are covered with the shimmering 'Transparent Radiation', while gospel and blues inflect the whole album – particularly in its lyrical appeals to Jesus. Yet Spacemen 3's stroke of genius was to boil their influences down to bare minimum: the hymnal 'Walkin' With Jesus', 'Ode to Street Hassle' and 'Feel So Good' are essentially variations on the same two chords, whilst 'Things'll Never Be the Same' is built around one monstrously heavy guitar line. They used repetition to drowsy, euphoric effect, or to evoke bad trip bleakness. Texture was key: minimalism could be made maximal by their placement of, say, reverb-drenched organs or revved-up guitar.
Despite the musical influences, Rugby in 1987 was not late '60s New York or California. Made in a city in the Midlands at the height of Thatcherism, Spacemen 3's hypnotically static music (complimented by their combined drug habits) refused the dominant aspirational ideology of the era. Even the album sleeve, an homage to US garage psych, seems imbued with a kind of seedy, disaffected British punk/DIY spirit: a blissed-out Sonic and Jason, depicted in a grim black and white photograph collaged against a grid of dirty gold spirals. Sonic wears a charity-shop V-neck and schoolboy haircut; both look as if they haven't eaten for weeks. This was The Trip by way of Ken Loach.
I first heard The Perfect Prescription aged 12. I'd heard nothing like it before. I used to stare hard at that cover, trying to identify why I found the simple, hypnotic songs it contained, dosed-up in a fug of nihilistic introspection, so unsettling but also beguiling. Maybe the clue was in the question, and why I keep returning to this album.