Featured in
After 'Ability': Why Mouth and Foot Artist Lorenza Böttner Matters Today
Paul B. Preciado's norm-defining show at WKV Stuttgart lays the groundwork for a crip-theoretical re-evaluation of art history
Born Ernst Lorenz Böttner to German parents in Chile in 1959, Lorenza Böttner was a bilateral amputee from the age of eight after losing both arms in a childhood accident. Relocating to Germany in the late 1960s for medical rehabilitation, Böttner later disavowed disability education and learned to paint and dance as a functionally diverse body. Meticulously curated by Paul B. Preciado, 'Requiem for the Norm' is an expansive solo show that builds upon the smaller selection of the late artist's works displayed at Kassel's Neue Galerie in 2017 as part of documenta 14. Böttner studied at the Gesamthochschule (now Kunsthochschule) in Kassel and two archive photographs from 1982 show the artist as a student performing outside the Fridericianum the same year as documenta 7. It was during this time that she changed her name and identified as female.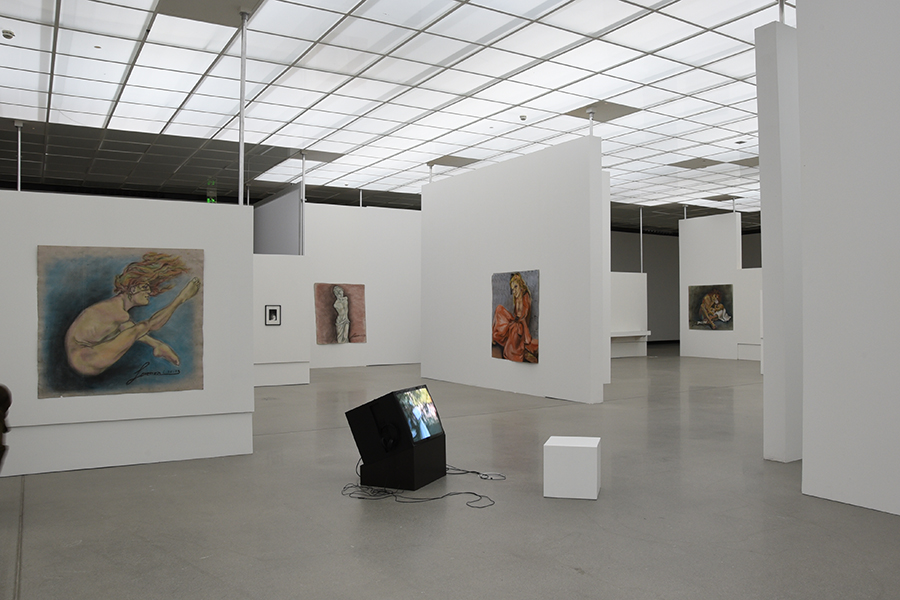 The exhibition periodically demonstrates how Böttner's practice was determined by her life story without spectacularizing it. Alongside archival material, video footage of performances and photographic series documenting the artist's made-up face or posturing body, the majority of artworks on display constitute exercises in destabilizing normative associations of traditional self-portraiture and figuration. As a draughtsperson, Böttner leans into what in his accompanying text Preciado perceives as an expectation of so-called mouth and foot artists 'to choose realistic techniques and to mimic the conventions of art from every period to demonstrate their "ability"'. Combining self-reflection with an element of fiction, the numerous drawings and paintings on display exude a muscular vitality and a gamut of styles and expressions, from the impressionistic to homoerotic imagery. Some, such as the show's opening work, Untitled (undated) – one of several large works of pastel on paper that were often made on the street – depicts a trio of Böttners as transvesting torsos, ranging from a suited man to a Victorian lady.
Joyfully kitsch at times, these works carry a pervasive sense of self-irony and fantasia. One early drawing on paper, Untitled (1976), portrays another trio of Böttner heads, this time atop a car driving towards a museum through a German landscape that includes familial landmarks such as Frei Otto's recognizable tensile structures for the 1972 Munich Olympic Games. The exhibition architecture has been devised to group together specific works. Böttner's performance portrayal of the classical Greek sculpture in Venus de Milo (1982), for instance, is replicated in the adjacent pastel, Untitled (1985), while accompanying artist notes detail how she drew on the similarities between the limbless statues and her own body.
In the years leading up to her death in 1994, Böttner explored forms outside of art. She performed as Petra, an armless mascot designed by Javier Mariscal for the 1992 Paralympic Games in Barcelona – from which various related ephemera, including a small toy, are displayed here. That same year, she appeared in a television advert for Faber Castell art supplies, playing a straightjacketed patient who draws an opening on the floor of their cell with their feet, through which they then magically escape.
If Böttner's work can be viewed as representative of an all-too-often marginalized art, then 'Requiem for the Norm' serves as a corrective to this dominant historiography. The exhibition as a format, however, can often only be symbolic. Yet by theoretically positioning – rather than merely acknowledging – Böttner's practice, Preciado lays the groundwork for a large-scale reparation and a wide-ranging re-evaluation of the art-historical canon in light of crip theory. In this sense, his excellent and forceful textual reading of this particular artist's practice makes a strong case for future inclusivity.
Lorenza Böttner, 'Requiem for the Norm' runs at Württembergischer Kunstverein, Stuttgart until 28 July 2019.
Main image: Lorenza Böttner, Untitled (detail), undated, pastel crayon on paper. Courtesy: Württembergischer Kunstverein, Stuttgart