A Guide to the Best Shows in Cologne
With Art Cologne opening its doors, a selection of exhibitions around town
Nil Yalter
Museum Ludwig
9 March – 2 June
'Exile is a Hard Job' at Museum Ludwig is Turkish artist Nil Yalter's first retrospective in Germany. The show clearly demonstrates how, in the mid-1960s, Yalter abandoned abstraction as her central means of expression, instead opting to channel her politically-engaged art through a more naturalistic aesthetic. Since then, her approach has resembled that of an ethnologist: conducting video interviews with migrants, she lets them tell their stories, photographing them with her Polaroid camera and collecting objects from the streets of poor neighbourhoods in Paris, Istanbul and New York. As well as being rich in material, the exhibition is undoubtedly an important political message to Cologne, a city with a large population of Turkish immigrants.
Hanni Kamaly
Ginerva Gambino
5 April – 25 May
In Hanni Kamaly's show 'Unbound the Gag' at Ginerva Gambino, four sculptures, graceful in spite of their large scale, stand in the space like distant relatives of Louise Bourgeois's spider sculptures. Focusing on formal aspects would, however, obscure the Norwegian artist's research-based approach, as the sculptures's hard, polished material recalls the architecture of prisons, gates and animal enclosures. In addition, the works are named after victims of colonial violence. These elements come together most strikingly in AMAD AHMAD (2019), a brute sculpture that looks like the three-fingered hand of a robotic Marvel villain and is named after the Syrian-born Amad Ahmad, who died in police custody under unexplained circumstances in Kleve, a small town near Cologne.
Nancy Lupo
Jan Kaps
11 April – 1 June
The central work in Nancy Lupo's solo show 'The Square at Noon' comprises two slightly scaled-down replicas of a bench from Termini Station in Rome (Bench 2019, 2019). Lupo has also created several casts of the bench's brutalist supports, spreading them around the room as markers. In this, she nonchalantly addresses the eradication of public space and of locations where time may be spent without consuming anything. Whereas, to date, the production of one bench per year appeared as a loose sequence, plan-like lithographs in the exhibition suggest that the work is in fact a commission for a public park in downtown Los Angeles.
Claus Richter
Clages
5 April – 18 May
As usual, German artist Claus Richter is in a world of his own. 'Method Acting', his fourth exhibition at Clages, makes physical the brightly-coloured delirious dream of a rapt flautist. In the centre of the gallery's front room stands Rooftop Melody (2019), the emptied shell of a house. On its roof, a figure plays the flute; inside, rioting PVC devils get up to mischief. This idea of rapture, in which all that is negative is erased, materializes as a demolition party, happening in the back room. In murals and on wobbling candelabras, articulated dolls made of pink PVC cavort like there's no tomorrow.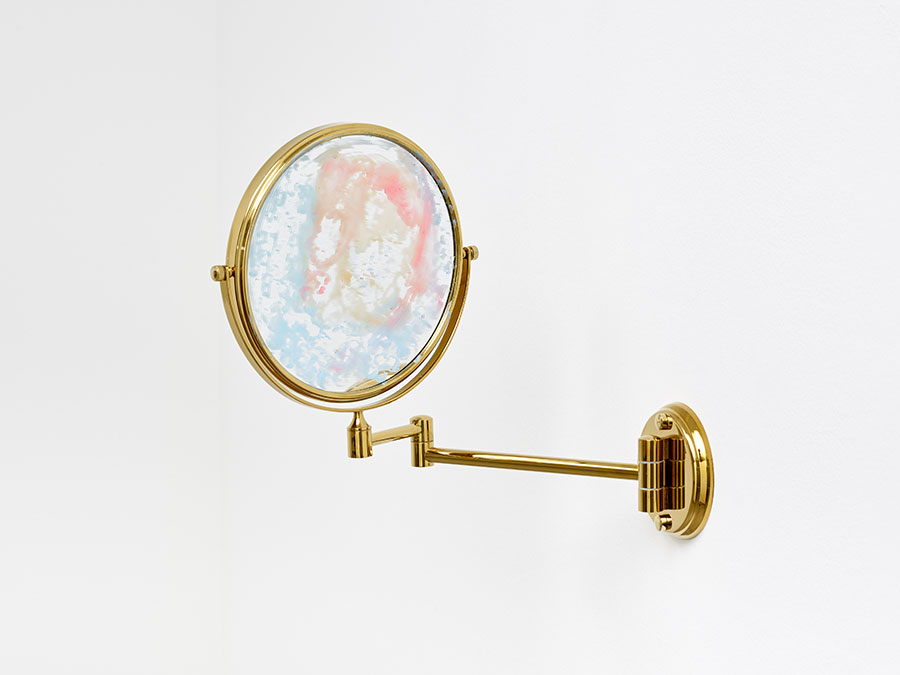 Karla Black
Galerie Gisela Capitain
12 April – 18 May
In terms of her colour palette, Karla Black has much in common with Gerhard Richter. While her latest solo show at Capitain involves her usual materials (Vaseline, lipstick, body butter and make-up), it also sees Black make use of mirrors for the first time. The artist seems to have developed an interest in painting on glass: as well as marking and scribbling on the windows of the gallery, she has also installed mirrors and window mounts throughout the exhibition space. Although the press release refers to 'marks', there is no mistaking it: Black has joined the painters. The show contains too little material to see where this will take her, but the path she has chosen looks inviting.
Whitney Claflin & Phung-Tien Phan
Galerie Drei
12 April ­– 8 June
To coincide with Art Cologne, Galerie Drei is opening a second exhibition space in its basement and will christen it with a double show featuring Whitney Claflin and Phung-Tien Phan. Claflin's small-format pictures have an outlandish feel, faintly reminiscent of American painter Milton Avery, while Phan's peculiar, playful video works are a refreshing discovery. The ten-minute Half Moon (2019), with its squirrelly tracking shots and curious cuts is especially fascinating. In this work, the artist mixes home video sequences with diaristic footage and quotations from films and music. The video develops a strange dynamic, comparable with an aimless nocturnal session trapped on the internet.
Jay Chung & Q Takeki Maeda
Kölnischer Kunstverein
12 April – 23 June
When the art world is in town, it makes sense to take that world as one's subject matter. This is what Jay Chung and Q Takeki Maeda have done with 'The Auratic Narrative', a show at Kölnischer Kunstverein. On the one hand, the show is a simple overview of works made since 2006; on the other, it is a meta-commentary on the frame narratives by which careers are supported, secured and made. Detractors might say that the artists are repeating this action with this exhibition – namely by asserting a narrative. Perhaps this is even their concept. Nonetheless, the works in the show support this assertion, like the colourful flags celebrating 10 years of Jay and Q (2012) or the palette with the packaged books called Hans Ulrich Obrist Interviews Vol. 1 (2010) that nicely highlights the sheer quantity of text that often surrounds artworks, providing validation and intellectual protection.
Main image: Nil Yalter, Pixelismus (detail), 1996, 24 parts: oil, gold paint, and acrylic on canvas, each 47 x 42 cm. Courtesy and photograph: © the artist