Love Island's 'Straight Camp'
Is the show's endless parade of heterosexual clichés a form of satire – or not?
As the closing credits rolled on week one of ITV's dating reality show, Winter Love Island 2020, I found myself toying with an outlandish idea: that a revolutionary queer shadow organization has infiltrated entertainment television. I'm not usually one for conspiracy theories, but how else to explain the existence of a show that mercilessly drags heteronormativity, portraying it as a dystopian competition in which gender roles are marshalled, same-sex friends are rivals, partners are trophies to envy or guard, and profit and social approval are more important than wellbeing?
If there is such an organization – let's call it Q for short – boy, has it been busy. Launched in 2015, the UK edition of Love Island is now in its sixth series, with franchises in Australia, Belgium, Denmark, Finland, Germany, Hungary, the Netherlands, Norway, Sweden and the US. Later this year, Love Island is also set to roll out in New Zealand. Each incarnation begins with a callout for participants, targeting tradesmen, models and small-time influencers under the age of 30 whose bodies conform to a strict muscle-to-fat ratio. The chosen few are confined to a holiday villa rigged-up with cameras, supplied with bikinis and co-ords and manipulated into entering emotionally deleterious relationships – evidence of which is televised six nights a week. The victorious couple, elected by public vote, leave with a cash prize and the slim chance of converting a few months of paparazzi interest into a lasting career.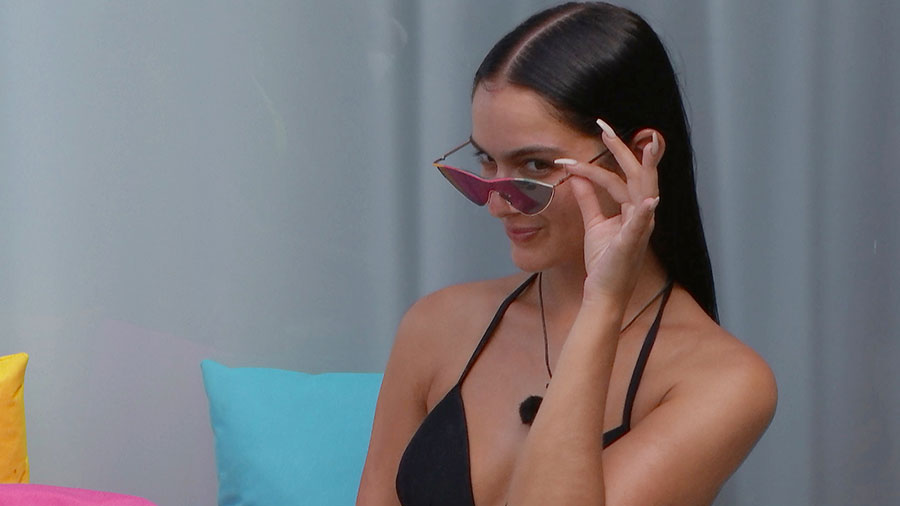 The more I considered the existence of Q, the more a potential strategy emerged. After all, representing the social hegemony in the form of a structured reality show would be an excellent way of revealing how behavioural patterns, oppressive values and restrictive identities are reproduced and commercially exploited. A case in point: any contestant not 'coupled up' is at permanent risk of being dumped from the villa. To be single is to face extinction – a neat summation of the pressure, still dishearteningly prevalent, to find a partner, 'settle down' and start a family.
Trawling through past episodes, I began to wonder if a puckish use of language was being instrumentalized to undermine the show's credibility. Take the 'fire pit', a key piece of architecture around which contestants congregate for the weekly 'recoupling' ritual, when they are obliged to declare which member of the opposite sex they'd like to share a bed with. This souped-up item of suburban garden furniture, with its hokey caveman name, is ideal for lampooning the use of origin stories to prop up the contemporary status quo. As for the title, Love Island, it's a total misnomer. The success rate of finding love on the show is as low as on a solo mission to the moon. Unless, that is, you're looking for a brand partner, because everything – from the clothing contestants wear to the shampoo they use – is decided by the programme's network of sponsors. In fact, the current series doesn't even feature an island: it takes place in Cape Town, firmly attached to mainland Africa.
For the task of breaking the tyranny of gender norms, Q seemingly favours an accelerationist approach. Special attention is given to inflating physical ideals of masculinity as far as they can go. No man gets on Love Island without grapefruit-sized biceps and HD abs. As Jack Halberstam writes in Female Masculinity (1998): 'The action-adventure hero should embody an extreme version of normative masculinity but, instead, we find excessive masculinity turns into a parody or exposure of the norm.' The reboot of Baywatch in 2017 announced a new age of hyper-masculinity, when Dwayne 'The Rock' Johnson emerged from the ocean in a pair of red bathing trunks. With water dripping from the mountains of muscle that rise from his shoulders to his ears, Johnson displaced Pamela Anderson, high-leg swim-suited star of the original television series (1989–99), as the central object of desire. A new maxim was born: traps are the new tits. In accordance with the trend for heroically muscular bodies, and no doubt aware of its inherent campiness, Love Island dedicates a great deal of airtime to shots of men inspecting their torsos and working out in the gym. To enhance the spectacle in the current series, a viewing platform overlooking the gym area has been installed to encourage female contestants to watch.
Love Island may have a gift for self-satire, but certain aspects of the show are undeniably bleak. The technique of manufacturing love triangles and break-ups, then editing the fall out into a steady stream of cliff-hangers, creates more than just an atmosphere of jeopardy. A public popularity contest based upon physical and psychological exposure is bound to have repercussions for the mental health of its participants and, to date, two former contestants have taken their lives. Series after series, unhealthy behaviour ordinarily acted out in private is offered up for public scrutiny. Contestant Connor Durman has assumed the role of human red flag in Love Island Winter 2020, showing tell-tale signs of jealousy and controlling behaviour only a few days into the series; he follows in the footsteps of Michael Griffiths in 2019 and Adam Collard in 2018, who helped make 'gaslighting' a household term. 
If Q is out there, surely it will play its final card soon. What form this could take is anyone's guess. Perhaps, during the live final, when viewing figures reach upwards of three million, the contestants will wake from the anxiety dream in which they have been cast and revolt against the game itself. Stacking up the clothes they have been obliged to wear, dousing them in product-placement cosmetics and using the flame from the fire pit, they will set this toxic farce alight.
Main image: Love Island, 2019. Courtesy: ITV