In Pictures: The Many Looks of Leigh Bowery
25 years after his death, we remember the inimitable performance artist and fashion designer
In 1980 at the age of 19, Leigh Bowery left Sunshine, Australia, for London, UK, where he found a new scene – amongst them Judy Blame, Scarlett Cannon, George O'Dowd, Princess Julia and Michael Clark – who were ready to redefine the relationship between visual art, fashion, music and performance. Against the backdrop of Margaret Thatcher's Conservative Britain, they set about creating a glamorous world centred around the nightclubs of the West End. On the 25th anniversary of the artist's death, a new exhibition of studio photographs by Fergus Greer 'Leigh Bowery – Looks' reminds us why the legend of Leigh Bowery still resonates today.
Between 1985 and 1986, Bowery promoted a Thursday club night called 'Taboo' in Leicester Square. Though short-lived – closed due to reports of drug-taking – the club provided an arena for their experimental style.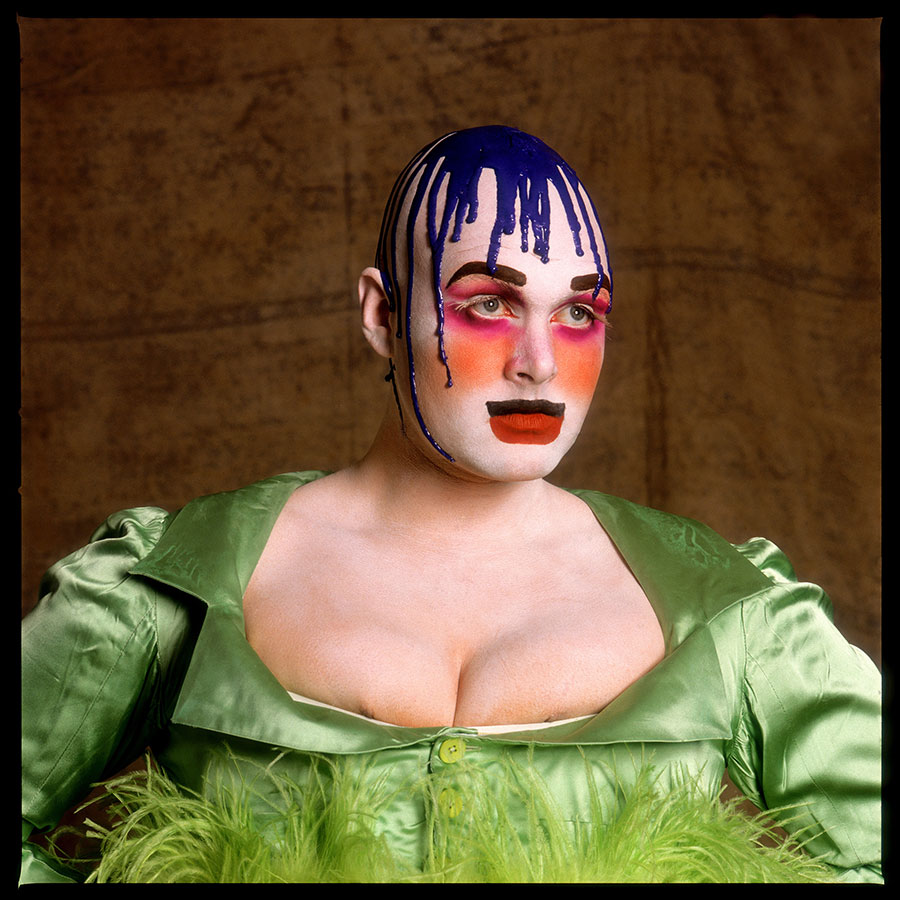 Allegedly promoting a 'dress as if your life depends on it, or don't bother' ethos, 'Taboo' certified Bowery's reputation internationally and influenced nights like Disco 2000 at Limelight, New York.
In 1984, Bowery was invited to design the costumes and scenery for Michael Clark's 'New Puritans' ballet, excerpts from the show appear in Charles Atlas's fictionalized documentary Hail the New Puritan (1985). He cut the seats out for the dancer's trousers and set the performance amongst enormous plastic fried eggs.
Bowery's costumes have been included in major museum exhibitions including 'From Club to Catwalk' (2013) at the Victoria and Albert Museum.
Each piece could be considered an artwork in its own right, intricately crafted and executed with a complete irreverence towards accepted notions of function or tradition.
One piece of Bowery's lasting impact on nightlife culture was to demonstrate the possibility of creating visually contrasting political statements using costume, performance and his own body.
'Fergus Greer: Leigh Bowery - Looks' runs at Michael Hoppen Gallery, London until 27 April