Postcard from Northern Spain
The arrival of the Centro Botín in Santander prompts a reassessment of the 'Bilbao effect', and a journey across the Spanish Atlantic coast
In October 1997, the Guggenheim Museum landed in the heart of Bilbao's industrial landscape. Over the next two decades, its arrival would come to be seen as a seminal moment in the history of urban regeneration, and in the ways that cultural institutions shape societies and economies. Last Friday, the neighbouring city of Santander saw the opening of the Centro Botín, a museum that contributes to the inexorable expansion of contemporary art institutions that now form a constellation across the Spanish Atlantic coast.
As you drive from city to city through the north of Spain, the sprawling nature of the region – its different personalities, urban scales and cultural temperaments – become apparent. Ranging from 150,000 to 400,000 inhabitants, the cities in the area are home to a relatively solid (and small) pattern of public and private institutions, foundations and independent spaces. In Gijón, you can find everything from genuine local businesses to underground initiatives: surf schools, picturesque cider bars and artists' collectives coexist around an abandoned tobacco factory. Located in the historic centre of Cimavilla, this building serves as an improvised venue to host talks, public assemblies, film screenings and evenings of music. Indeed, Gijón's alternative music scene is one of the most prominent in Spain. On the outskirts of the city, 'Shadow Writing (Algoritmo/Quipu)' – a solo exhibition by Berlin-based artist Lorenzo Sandoval – opened on 22 June at the LABoral Centro de Arte y Creación Industrial. The project, the result of Sandoval's residency at the museum, presents an installation composed of diagrams and sculptural reliefs, featuring a series of algorithms connected to different traditions of thought. Through this, Sandoval reflects on aesthetic conceptions of Islam and their relationship to spiritual representations of the world.
A two-hour drive east will take you to Santander. The city – rather conservative and bourgeois in tone – is home to an art community that is more preoccupied with commercially driven projects than artistic experimentation. Santander is well known for its collectors and private investment in culture, exemplified by the philanthropic character of the Centro Botín. Determined to maintain its position as the strongest private art foundation in Spain, the Botín Foundation will use its new venue to host a broad programme spanning the fields of music, theatre, dance, the moving image, and an ambitious educational strategy developed in conjunction with the University of Yale.
It's easy to make comparisons between the Centro Botín and the 'Bilbao effect': the stellar quality that a major cultural institution (Bilbao's Guggenheim Museum, for instance) can bestow on a city. But there is a different dynamic to the Botín Foundation's decision to build a new arts centre, expanding on a commitment that it has been fostering in the city since 1964: nurturing an art scene with a rich cultural programme and creating international connections. The three inaugural exhibitions are spread over the two floors of the museum and include a historical show dedicated to drawings by Francisco de Goya, 'Y' – the first solo exhibition in Spain by Carsten Höller – and a selection from the Botín collection including remarkable pieces by Lara Almarcegui, Asier Mendizabal, Tacita Dean and Nuria Fuster. Taken together, these three exhibitions narrate what Centro Botín's artistic director Benjamin Weil describes as 'key elements to exemplify the foundation's main areas of interest as well as a desire to promote a relational exchange between the Botín Foundation and its local and global audiences'.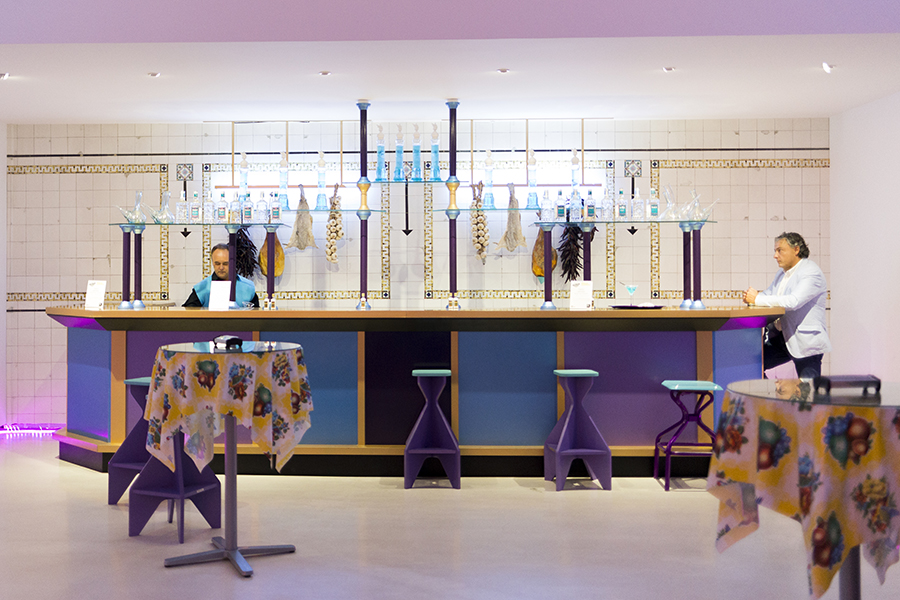 After the opening of the Centro Botín, I took the one-hour bus to Bilbao, a city more at ease with risky aesthetics and conceptual experimentation. I met up with the four founders of Bulegoa zenbaki barik – an 'office for art and knowledge' that organises seminars, screenings and performances – who were adamant that the city's art community was still consciously operating in the margins. Despite the visibility that a large cultural institution like the Guggenheim can provide, Bilbao's art scene still feels somewhat peripheral. As a response to this, projects like Bulegoa z/b are inventing new forms of exchange between the local and the international. They are part of Corpus, an international network that collaborates in commissioning performance-related work – other members include If I Can't Dance, I Don't Want To Be Part Of Your Revolution (Amsterdam), Tate Modern (London), KW (Berlin), CAC (Vilnius) and Playground (STUK and M-Museum, Leuven). Even local museums are investing in this cross-border pollination. For instance, the 'MIRALDA MADEINUSA' exhibition at Bilbao's Azkuna Zentroa was produced in conjunction with Barcelona's MACBA. The show examines the work of Catalan artist Antoni Miralda through recognisable, almost-common aesthetics formalised in food installations, video works and social happenings that reimagine notions of race, nation and community, often striking at pop culture's dark heart.
Heading further east, I reach San Sebastián, where cultural life is concentrated in the Tabakalera: another (former) tobacco factory, converted into the city's stunning International Centre for Contemporary Culture. I made it to the opening of 'The Music of Ramón Raquello and his Orchestra', a superb solo exhibition by French artist Eric Baudelaire. Speaking before the opening of his show, Baudelaire said: 'The exhibition triggers narratives that are elusive and ambiguous. The viewer has to look for something in the environment that is not always there.' Baudelaire's practice inspires questions of violence and belonging, and in so doing it also prompts speculation about the relationship between humans and their environments. In his film Also Known As Jihadi (2017), commissioned by the Tabakalera, we follow Abdel Aziz Mekki from the suburbs of Paris to Syria where he joins one of the precursors of Islamic State, and then back home. Baudelaire's work dives into territorial politics, with the exhibition itself sparking dialogue and unfolding across the particular political space of the Basque Country.
Stuck in our daily routines, and our immediate communities, it's easy to miss the collective force contained in interdependent systems. In fact, there might not be a lot of art spots within one single city, but the sum of all the cultural forces at play weaves a complex web across northern Spain. It is a landscape forever entangled in pertinent debates over gentrification and art tourism, as well as an ecosystem of richly different, persistently cultivated cultural spaces.
Main Image: Centro Botín, Santander, Spain, 2017. Courtesy: Fundación Botín; Photograph: Belén de Benito