Which Gallery Shows to See in New York This Frieze Week
From Cameron Rowland's deep dive into the history of US policing at Essex Street to Pedro Reyes's pre-Columbian inspired sculptures at Lisson Gallery, these are the must-see exhibitions in New York during Frieze Week
Natalie Frank
Lyles & King and Salon 94
29 April – 29 May
Spread across two galleries, Natalie Frank's latest solo outing, 'Cross-dressing for the Battlefield', showcases a new series of portraits made from colourful and textured slivers of paper pulp pressed onto cotton sheets, alongside a collection of painted clay vessels detailed with feminine figures. With their embellish hairstyles and delicate visages, Frank's rococo-inspired characters – excepting the Joan of Arc figure in Woman with Armor III (2021) – are so beautifully rendered, the paper works almost appear wet with paint, as if fashioned in richly layered impasto on raw canvas. At Lyles & King, Frank has extended the portraits beyond their frames onto vinyls that cover both gallery walls, revealing the costumed bodies of our heroines.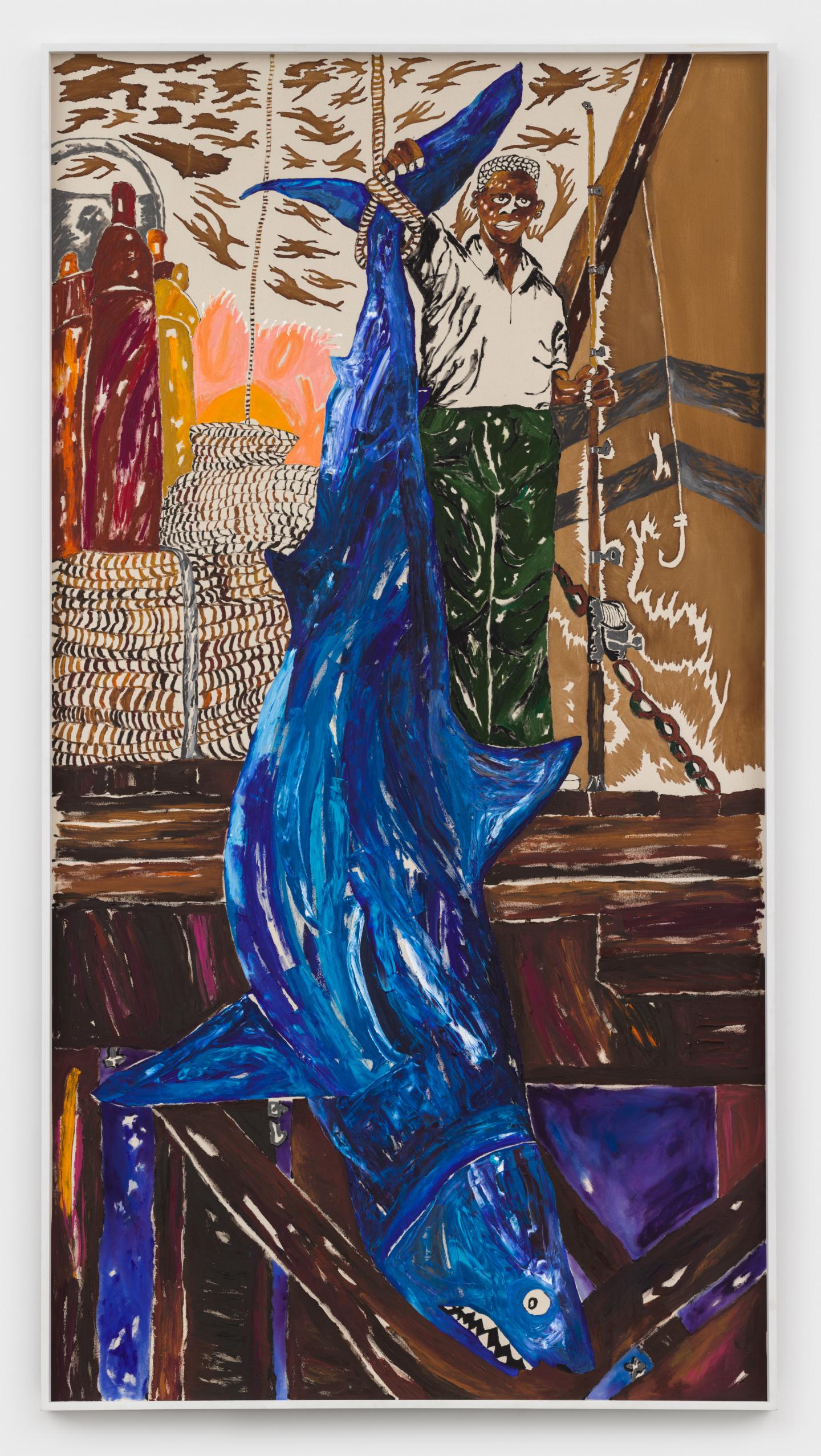 Chase Hall
C L E A R I N G
29 April – 20 June
C L E A R I N G gallery presents 'Aleczander', a solo exhibition of Chase Hall's latest series of large-scale paintings. The show – which features a text by Horace D. Ballard, curator of American Art at the Williams College Museum of Art – foregrounds Hall's experimentations in Black figuration, composition and material, in paintings made using acrylic, coffee and raw cotton canvas. Works such as The Great White Hanging (2020) – an image of a Black fisherman posing with his catch of the day: a great white shark – are imposing yet delicately rendered; the lacunae of the bare, white canvas in his tableaux are wonderfully balanced with the short strokes of brown paint that colour the skin of his cast of figures.
Louise Lawler
Metro Pictures
4 May – 5 June
Louise Lawler's 'One Show on Top of the Other', at Metro Pictures, presents two exhibitions simultaneously. 'Distorted for the Times' is a selection of digitally adjusted and distorted images, in the form of three vinyl works spread across the walls of the gallery, accompanied by a series of mounted photographs. 'A Given (Red, Yellow, Blue)' is the first showing in its entirety of 'Traced and Painted' (2000–ongoing), a series of trace drawings Lawler made from her own photographs, daubed with sparse marks of primary colour. While Lawler's constant revisiting and repurposing of her oeuvre could potentially create a disjointed visual encounter, the overall experience is one of outstanding aesthetic and conceptual coherence. 
Cameron Rowland
Essex Street
1 May – 19 June
Cameron Rowland's 'Deputies' at Essex Street is the artist's first solo show in New York since his acclaimed '91020000' at Artists Space in 2016. While his previous show focused on prison labour as a modality of neo-slavery in the US, 'Deputies' takes on the history of the police and, more precisely, the development of the New York Municipal Police Department (now the NYPD). Accompanying the show is a leaflet featuring an essay by the artist that traces the roots of the police to the slave patrol in the South: a militia of white men that enforced punitive slave codes to prevent the 'fugitivity, truancy and rebellion of the enslaved'. Installed in the show are objects that reflect on Rowland's research: an emergency call tower (Lynch Law in America, all works 2021); a copy of the New York Herald from 1803 (Description); two 19th-century cotton scales (Price per Pound); and five UHF radio scanners broadcasting 24/7 the NYPD's radio communications (which are recorded for posterity) across all five boroughs in New York (Life and Property). Finally, outside the gallery, in Chinatown's Seward Park (named after William H. Seward, US Secretary of State [1861–1869]), Rowland installed five New York City benches to memorialize five unmarked Black burial grounds in the city. As Rowland notes in the work's description: 'The displaced acknowledgements of these burial grounds intervene on Seward's memorial. They are meant for resting or remembering or plotting.'
Pedro Reyes
Lisson Gallery
6 May – 18 June
At Lisson Gallery, the Mexican artist Pedro Reyes presents 'Tlali', an exhibition of new sculptures and works on paper inspired by pre-Columbian language and iconography. Working closely with the Aztec language Nahuatl, Reyes offers the word 'Tlali' (Earth) as new name for North America, envisioning a new future for the continent while looking back at the contributions of Mesoamerican civilizations. Collaborating with stone carvers in Mexico City, Reyes created a group of fantastical sculptures from volcanic rock, red tezontle, jadeite and marble. These massive, stunning works each command their space within the gallery. Tonatiuh (2021), for example, named after the Aztec sun god, is a spherical polygon made entirely from volcanic rock. Sitting solidly on its large stone plinth, the object presents as a sacred totem of worship to the sun's immense power.